DISCOVER HOW TO BECOME A STRONG INTERVIEW APPLICANT AND INCREASE YOUR ADVANCED STANDING PROGRAM ACCEPTANCE, ALL IN AS LITTLE AS A FEW DAYS!
Get An Edge Over Other Qualified Candidates and Learn  What it Takes to
Ace Any Interview with the IDC Interview Mastery Course
Guaranteed to Give You a Step by Step Guide that You Need to Impress any Interview Committee, All While Saving Time and Disappointment
Introducing the Interview Mastery Course with topics including:
Interview Fundamentals – the truth about how interviews really work
How to Prepare for Different Types of Interviews
How to Handle Difficult Interviewer Personalities
How to Showcase Confidence
How to Demonstrate Understanding of U.S. Culture
Differentiating Yourself from Fellow Candidates
How to Respond to the Most Common Interview Questions
Self Mock Interview Guide
Plus much, much more!
Why you should join the Interview Mastery Course (in under 55 words) . . .
The Interview Mastery Course is a unique guidance system specifically designed for serious international dentist candidates who aim to obtain a seat in a prestigious U.S. Advanced Standing program and gating a competitive edge over qualified candidates with similar backgrounds and experiences. There's no better way to prepare yourself for one of the most important interviews of your life than by
Dear Friend,

So you've got an upcoming interview for a coveted advanced standing seat at a U.S. dental program?
– congratulations by the way.
What international dentist candidate wouldn't want to be in your shoes right now?
Your upcoming interview is confirmation that they're at least interested in what you have to say.
Yet it's no secret that the competition is fierce and things are only getting tougher for candidates to standout from the crowd.
Have you noticed how secretive friends and acquaintances are with each other about how they're doing with their process of
becoming a U.S. dentist? Few will tell you when they actually get an interview invitation while others will hide the fact that
they're even pursuing the dream itself.
. . . especially if your scores are low and your experience limited.
It's hard to know what your chances of acceptance are, because there's so much that goes into their final decision about who
they should give their limited seats to. Beyond test scores and years of experience, there's your bench test performance. But what about the actual interview itself? You know – the time where you sit across from a few people who have the power to either make your dream come true or send you back to the beginning?
Do you know how your interview skills are at this moment?
More importantly, are you one of the few candidates out there who really comprehend how important acing your interview is or do you just plan to "wing it" once you arrive?
Even if you DO have the high scores and extensive experience (congratulations by the way), it's still hard to know whether you have what it takes to impress at your interview in comparison to your competition.
There are so many candidates that make it out to interviews each year . . .
… and so many horror stories. (I'll assume you've visited the forums lately)
Making a mistake during your interview could have dire consequences for your future. Remember, once a school passes you by
during your first cycle of interviews, it's hard to convince them that they should give you a second chance the next year.
Many who've gone before you have been in the situation of getting passed up – maybe you yourself have. It's not fun.
That's where I come in.
I'm here to help.
~Dr. Alyssa Marshall
Expert Advice

I'm Kevin.
I've helped international dentist candidates learn the skills and tactics they need to master their dental school interview even when they've never once had a actual interview in their lives.
I spent over 6 years working in a university setting pouring through hundreds of applications and interviewing hundreds of candidates each and every year.
That's literally thousands of candidates that I screened and interviewed during my time there.
Beyond that, I've spent the past 2 years helping clients 1 on 1 gain a clearer understanding of interviewing and assisted them in strategizing for their upcoming interviews.
I'm pleased to say that the large majority of the clients I've coached for an upcoming interview are now in an advanced standing program.
How do I know what programs are expecting to see during their interviews with you? I've spent a great deal of time and energy researching this.
-I've talked to program directors – on the phone and through email about how best to succeed.
-I've talked to dozens of clients after getting accepted to see what types of questions they were asked during their interview and which responses worked best and impressed the committees the most.
-I've read countless books by all the experts on the topic of interviewing – especially interviews for advanced medical degrees
Then, I put it all together in one online course – the Interview Mastery Course.
THEN, I had the course reviewed by several current international dentist candidates at various stages in the process.
I used all of their feedback to improve the course and increase its value.
See, even if you're an international dentist who
does not have years of experience in your home country
doesn't have a high GPA, a high score on your TOEFL, nor have you passed the NBDE Part I & II in your first try
has not graduated from a U.S. masters program or participated in a preceptor program
doesn't have lots of U.S. work nor shadowing experience under your belt
did not go on to specialize in your home country after dental school
. . .but instead has . . .
little to no experience as an associate practitioner
a low GPA, medium to low score on their TOEFL, and had to retake your NBDE Part I or II
limited to no U.S. work experience and only done a little bit of observing
practiced for less than 3 years
Consider that applicants continue to receive acceptances to U.S. Dental Schools in all of the above categories!
But how? How do you push past all the obstacles and create yourself as a candidate that schools want in their programs?
In one word: Perception
You have to learn how to shift the perception you're giving out as a candidate during your interview. Altering the perception
-that you give off to interviews can make a massive difference in the outcome of your interview and thus the question of your
-acceptance at any particular school.
Unfortunately, because most candidates have a limited understanding of the overall
-fundamental structures of interviewing and how these application processes work, most candidates incorrectly believe that
-decisions are made primarily based upon good numbers (scores and GPA) and years of experience alone.
It's a proven fact that once an expert clearly explains how to actually do something
… in an easy, straightforward way that's simple to follow…
your success in that something is guaranteed to improve.
The secret recipe of the Interview Mastery Course is that you're able to study each module with deep focus,
learn small chunks of information each day
so that you know exactly what to say and do on the day of your interview.
As you can see, having such invaluable information at your fingertips allows you to not only save time, but remain confident, happy and focused.
As you can imagine, having such invaluable information at your fingertips allows you to make huge strides in your interview skills, and remain confident, empowered, and focused.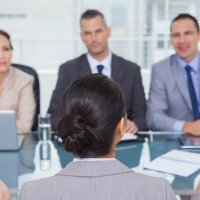 The Interview Mastery Course is the comprehensive, effective, success system that you've been looking for . . .
With the Interview Mastery Course, you'll gain a competitive edge over your competition, quicker and easier than just by preparing for your interview alone.
It's designed to ensure you avoid the common pitfalls that many candidates make and provides you with strategies and tips to ensure you come across as a likable and well rounded candidate.
You Can't Afford to Make Costly Mistakes
Most of us understand that each interview invitation is a truly golden opportunity, never to be wasted.
Imagine having access to a viewpoint most candidates don't ever see – imagine getting a deep understanding for what's going on inside the heads of your interviewers. Imagine knowing what they are gong to ask you before they finish their sentences.
Too many candidates have to learn the hard way – through nerve racking disappointment and the painful feeling of a rejection letter. There's no worse feeling than showing up to one of the most important interviews of your life, only to realize later that you said things in the interview you wish you hadn't. That feeling of regret is a taste that lasts years.
Financially speaking…
Each interview blunder will likely cost you thousands of dollars after you add up the application fees, airfare, hotel costs, rental cars or taxis, and even the cost of buying new clothes.
If the information you gain from this course saves you even ONE rejection letter, you will have come out financially ahead . . .
. . . and that's not even taking into account the time you've spent perfecting your application, practicing for the bench exam, and the most costly thing of all – all the time you'll have spent not being able to practice the profession you've studied and worked so hard to practice.
Hear this loud and clear.
You're not like most other candidates who will naively spend all their time preparing for everything except for their interview because they simply don't get how impactful that 30 minutes will have on the rest of their future.
Through your participation in the Interview Mastery Course, you'll gain an understanding of interviews that's been developed thanks to the mistakes of myself and others. I've learned the hard way through multiple failures how to successfully interview so that you don't have to fail
-which means that when you walk into your first interview, you'll be ready for it.
Imagine yourself putting in all the effort and hard work and then finally being rewarded with your very first acceptance letter.
Imagine your heart beating faster and faster
to the point that you're overwhelmed with tears of joy.
See yourself clinging on to your acceptance letter as everybody gathers around you with cheers and warm smiles.
You see it don't you?
Hold onto this image – because this reality is truly yours now that you've made the decision to take advantage of the Interview Mastery Course and all the benefits it has to offer you.
Why you should join the Interview Mastery Course
Get a clear picture of where your skills are at right now. We've added a self-assessment to the beginning of the course so that you can get an idea of where you stand with interviewing. Knowing where you are now is essential for making progress towards interview mastery.
Learn how to respond to any type of question. How should you best respond to "So, tell us about yourself", "Why should we select you for our program?", and "What questions do you have for us?"
The course includes common interview questions you can expect at your upcoming interview followed by specific guidance for how to approach and respond to each question.
Insider information about each school's interview. We've created a database of what you can expect from each school's interview based upon conversations with past clients, discussions with programs, and research we've conducted. Save time and energy from countless hours of internet research and get a leg up on your competition by having access to everything in one place.
Practice makes perfect. The key to Mastery of any subject is practice. This is why we push you to practice as much as possible and provide you the tools to practice effectively and improve rapidly. Our course comes with a full self-mock interview that helps you practice your responses to some of the most difficult yet common interview questions. By going through the self-mock-interview, you will begin to improve the delivery of your responses again and again until you're a pro.
Don't allow low GPA or test scores get you down. With the Interview Mastery Course you will clearly see that low marks and scores simply mean you need a unique strategy in order to make you and your application shine bright. You'll learn vital techniques involving how to discuss your "supposed" weaknesses as a candidate into strengths.
A community of support, learning, and sharing. When you join the Interview Mastery Course, you'll instantly be apart of a new community of international candidates like yourself who are there to share and learn. Utilize the members-only forum to post questions and get advice for all your interview-related questions to IDC's Interview Coaches as well as other members.
Learn at your own pace. Whether you have a week or 8 weeks before your upcoming interview, the Interview Mastery Course is a wealth of actionable and vital information about how you can achieve success. Because of the way the course is designed, you can choose the topics that you feel you need the most help with (if your time is limited), or meticulously go through each course module in order to soak up as much information as possible. Either way, the Interview Mastery Course is your ally for your upcoming interviews.
And Best of All – Get personalized feedback with a complimentary mock interview.
For a limited time, when you signup for the Interview Mastery Course, you'll automatically receive a free mock interview with one of our interviewing coaches at International Dentist Central.
"I would not like to miss this opportunity to thank Kevin. He made me realize what I was lacking in my answers for the interview process. I felt the huge change in my hand and interview skills at the interviews that I attended after the bench exam preparatory courses with Dr Marshall and Kevin. As a result, I ended up with multiple acceptances and a happy self."
"Dr. Alyssa & Kevin are versatile teachers; to be specific, they are good at observing your style of learning and teaching, accordingly. Their course is a single stop for everything you need for interviews and bench tests."
"After the in person course my online experience with Dr Marshall and Kevin was amazing they guided me completely for my interview process as well. In short I would recommend this to everyone who wants to succeed in securing their spot on the school of their choice. Thank you Alyssa and Kevin Marshall for helping me achieve my dream."
"I purchased almost all their services: editing, mock interview, bench exam intensive course, and in person 5 days course and tried to make all work show and online meetings. Meetings and mock interviews were very informative, inspiring and encouraging."
"The mock interview I did with Kevin was unbelievably constructive as well."
". . . the mock interview was a great help , it helped me in organizing my thoughts and answers and it gave me great confidence during the interview ."
" . . . my interviews were great thanks to the tips I learned! I really learned so much from you! I have already told a few friends about you, who will contact you when their time is ready."
". . . she prepared me for the interview through the mock interview session and she showed me how I can improve my performance during the interview and that makes a big difference."
Questions and Answers
Q: How long is the course?
A: The course contains 5 sections including over 49 detailed video modules covering everything from the basics about interviewing to subtle high-level techniques which play a vital role in setting you ahead of your competitors. All in all, the course can be completed in as little as a few days of very intense study or a few weeks to more fully absorb the content. Additionally, we'll be adding new modules and topics on a periodic basis which you'll have instant access to so long as you're a member
Q: After signing up, how long will I have access to the course?
A: You'll have 1 full year of complete access to the course and an option to renew your membership for an additional year at a fraction of the original price
Q: Is the course just for general interviews or does it pertain to international dentists specifically?
A: For the most part, we've made special effort to focus on the unique needs and experiences of international dentists and how to prepare for an upcoming U.S. dental school interview. That said, you'll also find that the course will prove to be immensely applicable to any interviews thereafter – interviews for dental specialization programs after earning a D.D.S. as well as job interviews for the rest of your career
Q: Isn't everyone different when it comes to interviewing? How do I know this course will work for me?
A: While it's true that everyone has their own style in expressing their unique abilities and experiences during their interview, all interviews follow certain constants, that need to be recognized and understood by candidates in order to ensure their success. Candidates who walk into an interview ignorant of these principals risk making major mistakes. Remember, for each school you only get to make a first impression one time (even if you're invited back for a second interview, it's hard to change your earlier first impression).
Q: What interview questions do you cover during the course? What if there's an interview question that I want to prepare for that you don't cover?
A: We cover the most frequently asked questions that international dentist candidates are regularly asked year after year during their interviews. We've obtained these questions through discussions with our clients who've undergone interviews at the various advanced standing programs throughout the U.S.
For each interview question, we provide a video overview of the best practices for responding to that question. If you find that there's a question that we don't cover in the course that you'd like to get tips for how to respond during your upcoming interview, you'll be able to submit new questions to us that we'll add to our queue of topics to cover.
Q: By following the advice in your course, won't I end up sounding like every other candidate?
A: Absolutely not. Our course is designed to give you the necessary framework and context for your upcoming interview so that you can respond to any question in a truly unique and refreshing way. In fact, we find that those candidates who don't go through our interview training are more likely to end up sounding the same as everyone else because they are not aware of the most common pitfalls that interviewees make, nor are they aware of how common their responses actually are. We don't let you fall into this trap, but instead teach you how to come up with truly interesting responses during your interview that intrigue your listeners.
Finally, remember that when you signup now, you'll get a Free Mock Interview with one of our Interview Experts.
To your success,
Kevin Marshall
Creator, IDC Interview Mastery Course
Start IDC Interview Mastery Course today and begin instantly learning what you need to know. You don't need to waste hours and hours scouring the internet for interview tips and information.
NOTE: This product is an online, interactive video course. Once you buy, you get instant access. The benefit of an online, interactive video course is that it allows you to take advantage of new course content each time we update the course. This is the main benefit of online courses – you purchase allows you to keep your membership until you get accepted!
PREPARED
2 Hours of 1-on-1 personalized feedback
Limited Time Offer
Powerful Self-Study Interview Course
Access to Program Specific Questions
Active Discussion Forums
Personalized Interview Feedback Videos
2 Hour Mock Interview
1 Hour Pre-Mock Strategy Session
Additional 2 Hour Mock Interview
--Panel Style Mock Interview with Kevin & Dr. Alyssa
1 Hour Followup Strategy Session with Kevin
Access to All IDC Interview Workshops (10+ Hours)
Get Started
WELL PREPARED
3 Hours of Personalized 1-on-1 Preparation!
Limited Time Offer
Powerful Self-Study Interview Course
Access to Program Specific Questions
Active Discussion Forums
Personalized Interview Feedback Videos
2 Hour Mock Interview
+1 Hour Pre-Mock Strategy Session with Kevin
Additional 2 Hour Mock Interview
--Panel Style Mock Interview with Kevin & Dr. Alyssa
1 Hour Followup Strategy Session with Kevin
Access to All IDC Interview Workshops (10+ Hours)
Let's Do This
FULLY PREPARED
5 Hours of Intense Personalized 1-on-1 Coaching with a Panel Style Interview
Limited Time Offer
Powerful Self-Study Interview Course
Access to Program Specific Questions
Active Discussion Forums
Personalized Interview Feedback Videos
1 Hour Pre-Mock Strategy Session with Kevin
2 Hour Mock Interview
Additional 2 Hour Panel Style Mock Interview with Kevin & and another IDC Interview Specialist
+Access to All IDC Interview Workshops (10+ Hours)
Prepare Me!